Theater for the New City presents New York premiere of
"ColorStruck" by Donald E. Lacy, Jr.
Prominent Bay Area activist/comedian introduces New York audiences to his solo show about color-consciousness and institutionalized racism.
WHERE AND WHEN:
February 28 to March 17, 2019
Theater for the New City, 155 First Ave.
(at E. 10th Street)
Presented by Theater for the New City
Thursdays through Saturdays at 8:00 PM
Sundays at 3:00 PM
$20 general admission
Sundays pay-what-you-can
Theater's box office: (212) 254-1109
Smarttix: (212) 868-4444
| | |
| --- | --- |
| | |
| Behind: Colin Kaepernick | Behind: Mohammad Ali |
Comedian/actor/broadcaster Donald E. Lacy Jr. will perform the New York debut of his one man show, "ColorStruck," at Theater for the New City February 28 to March 17, 2019. The play was born in California's Bay Area and has been presented on college campuses around the country and at the National Black Theatre Festival. It has been presented twice for the U.S. Congressional Black Caucus.
The piece begins as a comedic autobiography of a sensitive, light-skinned African American man growing up in Oakland during the height of the Black Pride movement. It recounts how, as a child, Lacy was shunned by some people in the black community for not being dark enough and ostracized by some members in the white community for being too dark. It develops into an examination of how cultural assumptions underlie institutionalized racism and how they make us judge people by the color of their skin and not the content of their character. Director is Sean San Jose; soundscape and music are by Grammy nominee Tommy Soulati Shepherd.
Donald E. Lacy, Jr. on his
high school grauation night.
Born light-skinned to a dark-skinned African-American family in 1960s Oakland, Donald E. Lacy, Jr. was taunted by other boys as a half breed and grew up with a heightened sensitivity to race and the feelings of alienation and ostracism. It was the time when the Black Pride was enveloping young African Americans and Oakland was one of its epicenters. Lacy's comedy is rooted in the conundrum of expressing Black pride and consciousness while not appearing obviously Black to the naked eye. In "ColorStruck," he reflects on the infernal constancy of racism in America while waxing fondly on emblems of the black experience, including hairstyles, pop culture memes and myths of family life.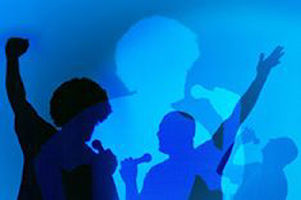 The play uses humor, drama, improvisation, dance, tone poems, hip-hop and current events to deepen our understanding. The audience is encouraged to sing along and to engage each other. Each performance is followed by a post-play discussion.
Lacy's gift is in using humor as an icebreaker to bring all races to the racial colloquy. Since the current head of state provides a never-ending supply of new material, the piece is continually reshaped.
The earliest version of "ColorStruck" first appeared in 2007 in Oakland and was staged that year at the National Black Theater Festival. It was performed at the 2007 Congressional Black Caucus at the invitation of Congresswoman Barbara Lee and returned for an encore in 2008. A later version of "ColorStruck," chronicling the Obama Presidency as part of the Conversations In Color Tour, premiered at the Conference of Race and Pedagogy in September 2014 at the University of Puget Sound. Since that time, the piece has been performed in over 20 college-based theaters and performing arts centers across the country.

LoveLife Foundation


Lacy is a Bay Area-based actor, standup comic, broadcaster, activist, and playwright. He founded the LoveLife Foundation in 1997 as a tribute to his slain 16 year-old daughter, a victim of random urban gun violence. He felt he had a score to settle, not with the boys who mistakenly took his daughter's life, but against the poverty, hopelessness, misguided anger and other forces that devour young lives. The organization offers programs for young people including mentoring, a school safety program, training in video/radio production and theater performance, civic engagement, town hall meetings, public service announcements and vigils to remember young people slain on the streets. The foundation and Mr. Lacy have received about 27 civic and government awards and citations to-date.
LoEshe' Adanma Lacy
Lacy's daughter was named LoEshe' Adanma, In Ibo/Nigerian, LoEshe' means love life and Adanma means daughter of beauty. In 1997, LoEshe' and a girlfriend since childhood caught a ride after school in a van driven by a young man. He was attacked by four assailants who fired several shots into the vehicle, aiming at him. The intended target and LoEshe's girlfriend, while wounded, survived. LoEshe' did not. Now Lacy relates that the LoveLife Foundation was LoEshe's idea. Three months before her death, she had endured the death of a friend and asked her father to help her write a play about stopping the violence. "She is an amazing spirit," he says.
After her death, Lacy bonded with other parents who'd had similar experiences. One bereaved father warned Lacy that his anger would annihilate him unless he channeled it into something productive. Now, Lacy attends a steady stream of meetings with city leaders, community organizers and youth groups and appears on TV and radio to speak out on youth violence. He frequents City Council meetings and lectures high schoolers on staying safe and being alive. He has achieved local celebrity status. "LoveLife" was adopted in 2016 as the official motto of the city of Oakland and Lacy was a commencement speaker at Berkeley City College in 2017.
Oakland city sign with Love Life emblem
A few months ago, Van Jones and a CNN film crew accompanied Lacy to capture his first meeting with the man convicted of murdering his 16 year old daughter. Lacy forgave him on camera to set an example to all people that forgiveness is possible. Lacy also attended his parole hearing several months later and spoke on his behalf. The parole was granted and the shooter, now remorseful, was released over a month ago. Lacy hopes to appear with him at future speaking engagements. The CNN special will air this Spring.

---